Sunscreen is the one step you should never skip before heading outdoors. Applying (and reapplying!) SPF protects your skin from the sun's powerful UV rays, minimizing your risk of painful sunburns, skin cancer, and premature signs of aging, such as dark spots and wrinkles.
There is a lot of controversy with sunscreens right now that might contain benzene as a contaminant. None of those are included in this list of top picked products!
But shopping for the best sunscreen can be overwhelming. Whether you're looking for the best natural sunscreen, the best sunscreen for babies and kids, tinted sunscreens, or the perfect SPF just for your face, there's an option for you!
For people who have pigmentation issues, it's important to use a mineral sunscreen that's tinted – the iron oxides in the tint protect against high energy visible light from devices, which can cause and worsen hyperpigmentation.
Important reminder: Sunscreen can expire, which makes it less effective. Even if last year's bottle hasn't hit its expiration date that date is only valid if the product is stored in a cool, dry place, so just a friendly reminder to check that date before putting it on your skin.
Our own, Dr. Maryann Mikhail shares her top sunscreen picks for this year:
Best for Breakout Prone/Sensitive Skin: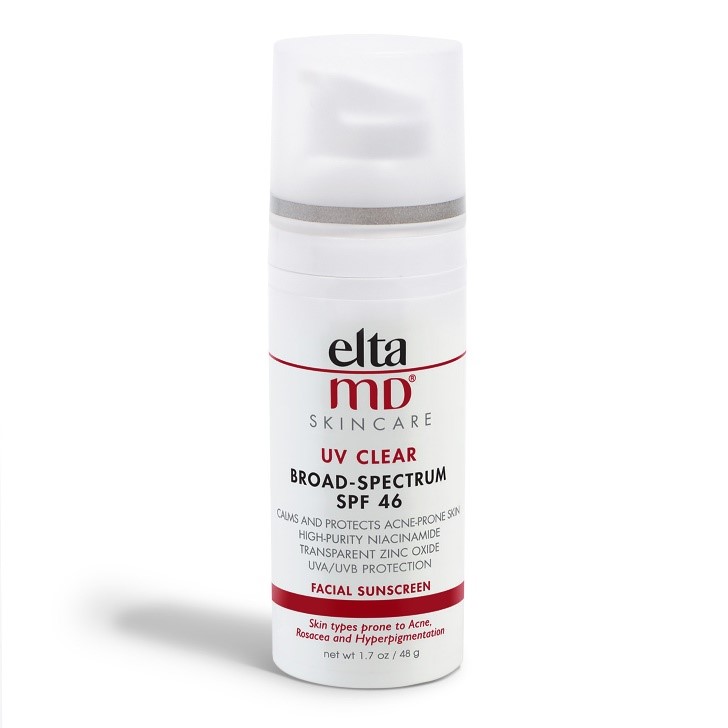 EltaMD UVClear: $37.00
Oil-free EltaMD UV Clear helps calm and protect sensitive skin types prone to discoloration and breakouts associated to acne and rosacea. It contains niacinamide (vitamin B3), hyaluronic acid and lactic acid, ingredients that promote the appearance of healthy-looking skin. Very lightweight and silky, it may be worn with makeup or alone. Choose from tinted and untinted formulas for use every day.
Best for Pigment Prone:
Amar Botanica HA Mineral Tinted Sunscreen SPF 44: $48.00
HA Mineral Tinted Sunscreen SPF 44 is a water resistant, physical sunscreen that features a moisturizing base with a sheer, universal tint beneficial for most skin types. Formulated as a chemical-free alternative to sun protection, HA Mineral Tinted Sunscreen SPF 44 is a great option for even the most sensitive skin types, including post-procedure. Zinc Oxide 10% and Titanium Dioxide 5.5% provide protection against UVA-aging and UVB-burning rays. In addition to the mineral based sun protection, this gentle sunscreen also contains Hyaluronic Acid which effectively hydrates the skin to restore a youth­ful appearance. This product is light enough to wear alone or under makeup for everyday protection.
100% physical sunscreen features a moisturizing base and sheer, universal tint.
Light enough to wear alone or under makeup.
Water resistant sunscreen (40 minutes)
Best for Re-application on-the-go:
Isdin Mineral Brush: $55.00
Mineral Brush provides on-the-go protection against the visible signs of photoaging: the ideal complement to your daily sun protection and skincare routine. A silky, smooth, fine powder containing titanium dioxide, zinc oxide, mica and iron oxides provides protection against free radical pollution damage, blue light and infrared radiation (IR). Take it with you for photoaging defense and matte, natural coverage wherever you go! Isdin Mineral Brush contains titanium dioxide, zinc oxide, mica and iron oxides, which together provide protection against free radical damage from pollution, blue light and infrared radiation (IR).
Best Spray Sunscreen: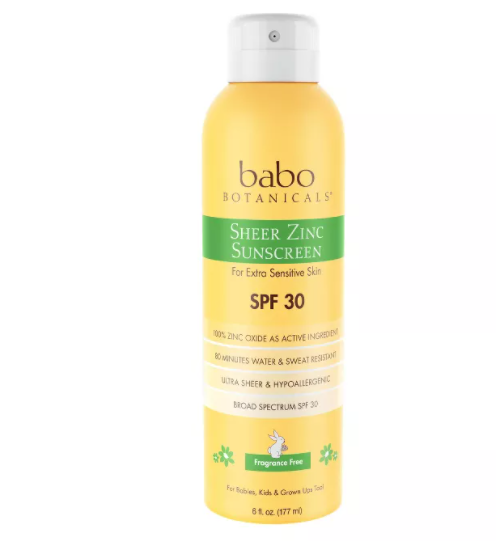 Babo Botanicals Sheer Non-Nano Zinc Continuous Spray SPF 30 Fragrance Free Mineral Sunscreen: $18.99
Say that three times fast! Or don't. But the best part? You can find this bottle at your local Target! This Sunscreen spray has the following benefits:
Water and sweat resistant for up to 80 minutes
Non-greasy, lightweight formula uses non-nano zinc oxide for SPF 30 protection
Spray-on sunscreen easily rubs in to protect against UVA and UVB rays
Safe mineral sunscreen for babies, kids and sensitive skin
Best for Baby:
Blue Lizard Australian Sunscreen Lotion Baby SPF 30: $28.99
Designed to protect baby-soft skin, Blue Lizard Australian Sunscreen's mineral Baby sunscreen contains no chemical sunscreen ingredients, no parabens and no fragrances. Using only Zinc Oxide and Titanium Dioxide, our Baby sunscreen protects you and your little one by acting like thousands of tiny mirrors that reflect UV rays away. The SPF 30+ formula provides broad spectrum protection from 97% of the sun's burning rays. Baby's water-resistant formula is made without Oxybenzone or Octinoxate to help protect fragile reef ecosystems. Their Smart Bottle and Smart Cap Technology makes teaching kids to play safe in the sun easy. Watch the cap or bottle turn pink in harmful UV light as a reminder that it's time for sunscreen.
Besides applying sunscreen on a daily basis, you can do the following to help reduce your risk of sun damage and skin cancer:
Wear Sunglasses and Wide-brim Hats.
Sun-protective clothing (like Cool Ivan).
Take SunIsdin Capsules – an antioxidant vitamin that defends your skin from damage by UV rays.